September 22nd, 2013
Jenny Holzer, a conceptual artist from New York, creates an array of fantastic spectacles using only a projector and a building or a medium by which the light can project. Over the past 30 years, Holzer has created hundreds of text-based projections on buildings and monuments including the World Trade Center and the Venice Biennale. In 1990 she was awarded the Leone d'Oro and in 1996 the Crystal Award for the excellence in her work. Holzer's designs are simple; she takes some text in a projector and shines them on public buildings. One would think that was it, right? Well, what makes these projections breathtaking is not only the way they scale their entire canvases, but also because the projected message takes into account the symbolism of the actual architecture. For example, in Holzer's projection on the Twin Towers below, the building ends up being apart of the artwork and it helps further the projection's message!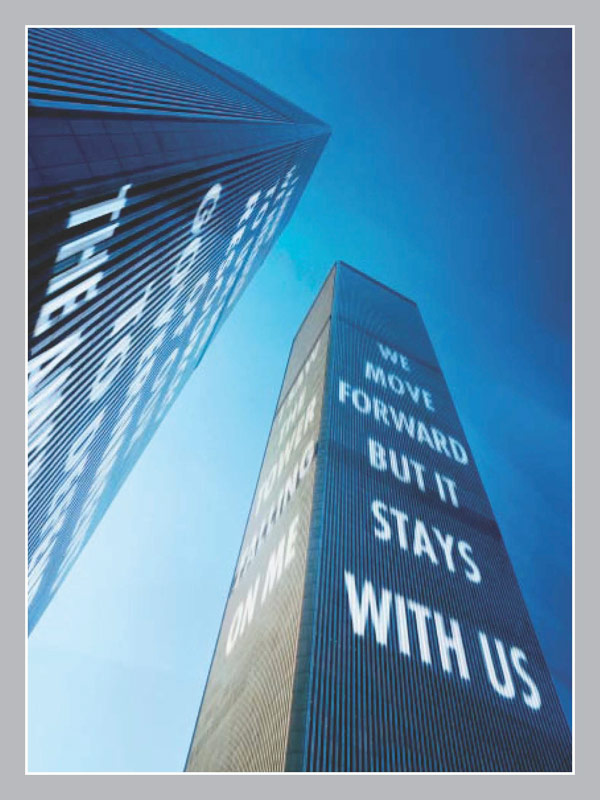 Image: http://boingboing.net/2011/09/07/times-10-years-after-911-issue.html
Jenny Holzer's works make me think of futuristic graffiti, and the amount of thought put into such an easy concept stuns me. However, works like these again make me ask myself  "what IS art?" since anyone can shine words on a building. I think art is not the work itself, but the thought behind it and the idea that the artist wants to convey.